Living with rosacea!
Posted by ELENA ALARCÓN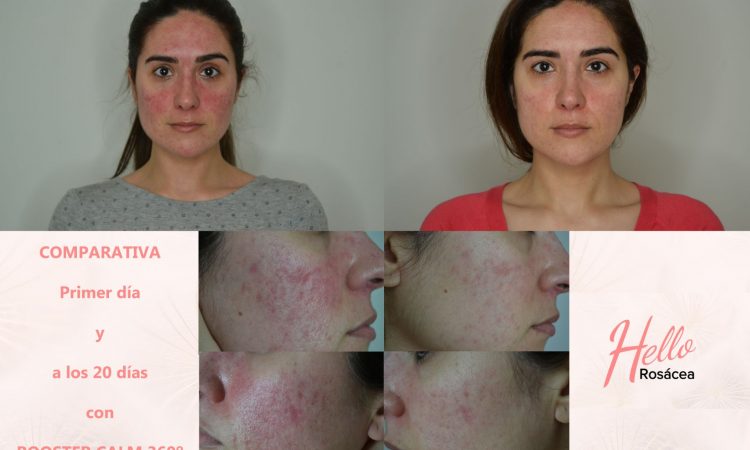 Tips for having

 

rosacea
 

 under  control with @hellorosacea!

Lately, we've heard a lot about rosacea.  More and more people are diagnosed, because it was confused with another skin alteration or because we are more exposed to factors that enhance its appearance. And we're going to meet him firsthand with Mar Parras de Hellorosacea.

 

But we started at the beginning. Rosacea is  a chronic inflammatory disease, which stands out for the appearance of recurrent transient redness, facial erythema, telangiectasias, papules and pustules on cheeks, nose, forehead, chin and/or chest.

Rosacea is  caused by many factors, both genetic. immune changes and an alteration in the skin microbiota.  Demodex folliculorum mite is naturally found in the skin microbiota, but by external factors an increase of this mite can occur generating an immune reaction that leads to typical rosacea inflammation processes.

That's why Ami iyök attaches  great importance to taking care of our skin microbiota to avoid skin pathologies such as  rosacea. From  Friend  I'm so good, we present Booster calm     blisters as a treatment for rosacea, with rosacea efficacy  tests to strengthen the existing microbiota and create a biocompatible barrier to protect your skin.

Rosacea skin is also experiencing  a loss of skin functionality as a protective barrier. Therefore, there is an increase in  transdermal water  loss, making the skin more dry, sensitive and prone to peeling.

 
Rosacea

 

subtypes
There are different types of  rosacea, which are characterized by different symptoms and can also be confused with other skin pathologies. And that can make us not treat the right way.
Rosacea
 

erythesis  (PARLIAMENT OPINION)

Rosacea   RET is characterized bythe dilation of superficial blood vessels  (telangiectasias) and a presence of both persistent and transientredness (erythema).
Pustular

 

Rosacea
The  pustular rosacea , stands out for the presence of pustules and papules, very similar to vulgar acne. That's why they get very confused.
Phymatous rosacea
In the phymatous rosacea, hypertrophy and thickening of the skin appears, making it  irregular. It is usually located in the nose area but can also appear in other areas.
Ocular
rosacea
Ocular rosacea  is an inflammation that causes redness, burning and itching in the eyes.
First-person
 

 rosacea with

 

 Hellorosacea

Mar Parras, founder of the Hellorosacea community,  naturally explains her experience with  rosacea  and treatment for rosacea from its inception until now. With super useful tips and experiences to live the  happiest rosacea  and without  tabus.

He also tells us about his experience with Booster  calm ampoules  with complement with  the  treatment for rosacea and its evolution in his skin.

 

 1. When did the rosácea start to appear?

Twenty-seven years old. One day, as I looked in the mirror, I observed changes in my face. I began to feel tingling, pain, burning, discomfort even vomiting. Something was wrong with me and I didn't know what it was. It takes several years to know it was  Rosacea.

 

 2. Do you have it chronically or periodically?

Rosáce a's disease is chronic, although we can counteract its symptoms. That is, there is no cure but there are treatments to improve our quality of life. 

The first few years, it manifested itself in specific months, once or twice a year, coinciding with the changes of season. By contrast,  in 2017 I was no longer cessing and I barely had time to recover when a new outbreak began, it even affected me to the eye and I had to have surgery on a chalazion. 

More intense outbreaks often coincide with times of stress and stress.  Thanks to the maintenance routine I was scheduled to do, the outbreaks are currently milder.

Today, I am being treated for buds located in the jaw area by rubbing the masks to protect me from Covid-19.

 

3. How does your skin feel? (If you feel pain, itching tightness.. )

Each outbreak is different in symptoms and manifestations. The most recurrent are usually pain, burning, itching, as a kind of tingling on the face and tightness with sudden changes in temperature.

My worst nightmare becomes real in the summer of 2018. I couldn't control the pain threshold. Everything gave me reactions that further altered my skin.

 

4. How did rosacea affect you psychologically? 

At first I assimilated it pretty well, but everything changed. Gradually, I was creating complexes that made me isolate myself, overshadowing important moments in my life. So much so that  in my questto fit into this society and hide my face, I decided to form as a professional makeup artist to hide my image, and with it, my fears and insecurities

Analyzing all this time, I can confess that  in those years I almost lost the battle, letting myself be swept away by stress, anxiety and fear. But one day I got up and said to myself, "Enough, you're missing things that will never happen again." Since then,  Rosacea  and I have walked hand in hand. I have assimilated that one day he said "hello"to me and that from that moment on he would be my faithful companion of life.

  

5. What was your first treatment for rosacea?  

My first treatment for rosacea  was based on oral antibiotics and solar photoprotection.  The truth is that it took me months to see the results on the skin and so long taking them led to an alteration of the intestinal flora.

  

6. How has your evolution been during this time at the treatment level?

In these ten years with Rosacea,I have met several dermatologists who have been adapting  rosacea treatments  to the manifestations and symptoms that have appeared.

The list is extensive. I have been given topical rosacea treatments such as metronidazole, ivermectin,  azelaic acid, retinol and oral treatments such as  tetrecycline,doxycycline, minocycline and  isotretinoin at low doses.

 

7. From the time you've been diagnosed until now, Do you think it's more known about  rosacea at the dermatological level?

From my experience, I can tell you that the evolution has been very favorable. About ten years ago I had to constantly explain what this disease was. Even my first diagnosis was wrong, as there are many similar pathologies with erythema and at that time my manifestations were no more at the level of sensations, than at the visual or aesthetic level. 

Over the years rosacea treatments have evolved  a lot and patients can help us with its benefits.

  

8. Does any food affect you? (Very hot or spicy food? )

I confess, I have intolerances to gluten, dairy and egg.  I don't usually eat spicy food, but it does affect me when I've had a drink. For me, in shoots, it is almost worse to steam when cooking than when eating very hot foods or drinks.

  

9. How does the weather affect your skin?

Temperature changes are my Achilles heel. Steam and sharp temperature contrasts, especially heat, are triggers for flushing or outbreaks  of papules and pustules. The cold affects me less, but my dear gaditan lift leaves my skin quite tight.

 

10. What cosmetics do you use in your daily routine?

My current routine is guided by the dermatologist. I want to clarify that it has been indicated for my needs at this time and for this they have had to make a differential diagnosis.
Hydrating

 

cleanser cleaner

 

from Zo Skin Helth.
Daily power defense

 

de Zo Skin Helth.
Rozatrol

 

the Zo Skin Helth.
Booster Calm 360o – WARRIOR I

 

by Ami  iyök.
Toleriane Ultra Eye Contour

 

by La Roche Posay
Photoprotector

 

Fusion Water

 

by  
My routine before dermatological treatment for rosacea was minimalist: Green Shaman Cleanser, Booster Calm 360o – WARRIORI, both by Ami  iy'k and photoprotective  Fusion Water  from  Isdin.  
In a timely manner I use moisturizing masks, especially when exposed to sudden changes in temperature. In this case my favorites are Aqua Intense   Rilastil Mask  and  Kombu Nectar  by  Ami iysek.
11. How do you think rosacea is currently seen?
Gradually and with a lot of work, we are getting more and more diffusion and normalization of this pathology, peror there is still much to go through.
In the last year, more has been talked about as a result of the use of masks to protect us from the pandemic, I have even noticed an increase in profiles on social networks dedicated or related to rosacea.
12. Would you recommend Booster Calm to people suffering from rosacea? 
Of course I am, for me it's a staple in my bag.
Since I met him in 2019 I continue to use it daily in my routines, the only thing I adapt the amount according to my needs. The skin has improved, the redness has subsided after an outbreak and the pigmentations of the papules and pustules are disappearing. How can I not be delighted with its effects. More than a cosmetic, I consider it a  base treatment  for rosacea for my illness.
Interestingly, speaking to my dermatologist I came to the conclusion that my current shoots are located in areas where I do not usually apply the ampoule, big mistake on my part… we must also include it in routines.
13. What do you think is the plus or added value of our product in the formula to give you such good results?
It does not cause adverse reactions, it is easy to transport, dose and apply, in addition to its compatibility with other cosmetic products, and even dermatological treatments.
Entering the formulation, and without having extensive knowledge on the subject, I believe that a strong point is the combination of azelaic acid with amino  acids and prebiotics to strengthen the skin barrier, so important in  rosacea.
In short, the most important thing for me is that I manage to soothe the skin and balance the barrier function.
14. Do you think a good maintenance treatment for rosacea has to be accompanied by a good gentle cleanser and respectful of the microflora or skin microbiota?
In my experience, yes. In all these years I have tried many cleansers that left me feeling tight on the face and the skin was much more altered.
15. What recommendations would you give to people with rosacea?
Each person has their time and pace of adaptation and acceptance. This disease affects self-esteem quite a bit, but today with the help of experts we can control its effects.
We must take care of ourselves and we not  let ourselves be carried away by laziness, the key is in the constancy and tenacity  with treatments for rosacea. And above all be patient,  the results will not come overnight.
In the emotional field I would advise you to look with respect and interpret the shoots as learning points, signs that remind you  that you should be  watching for  sor health. For a long time, this is my philosophy of life with regard to  rosacea.
And above all, "Live without fear and show your courage"
Mar Parras
Do you already know everything about rosacea  Do we give you some tips to live naturally the rosacea.
https://www.ami-iyok.com/product/booster-calm-360-warriori-rosacea/ Collection 2019 Sale 70% Off Title for image