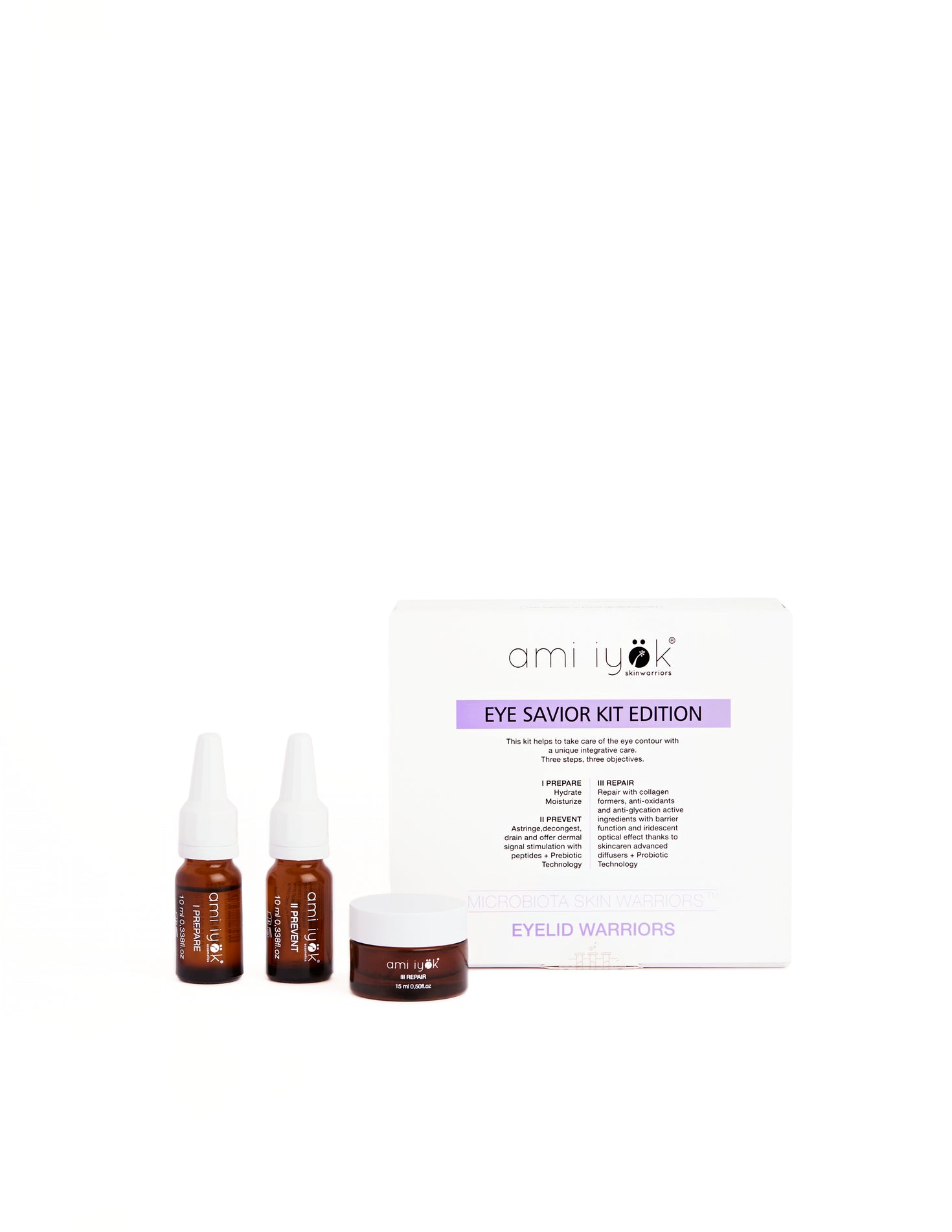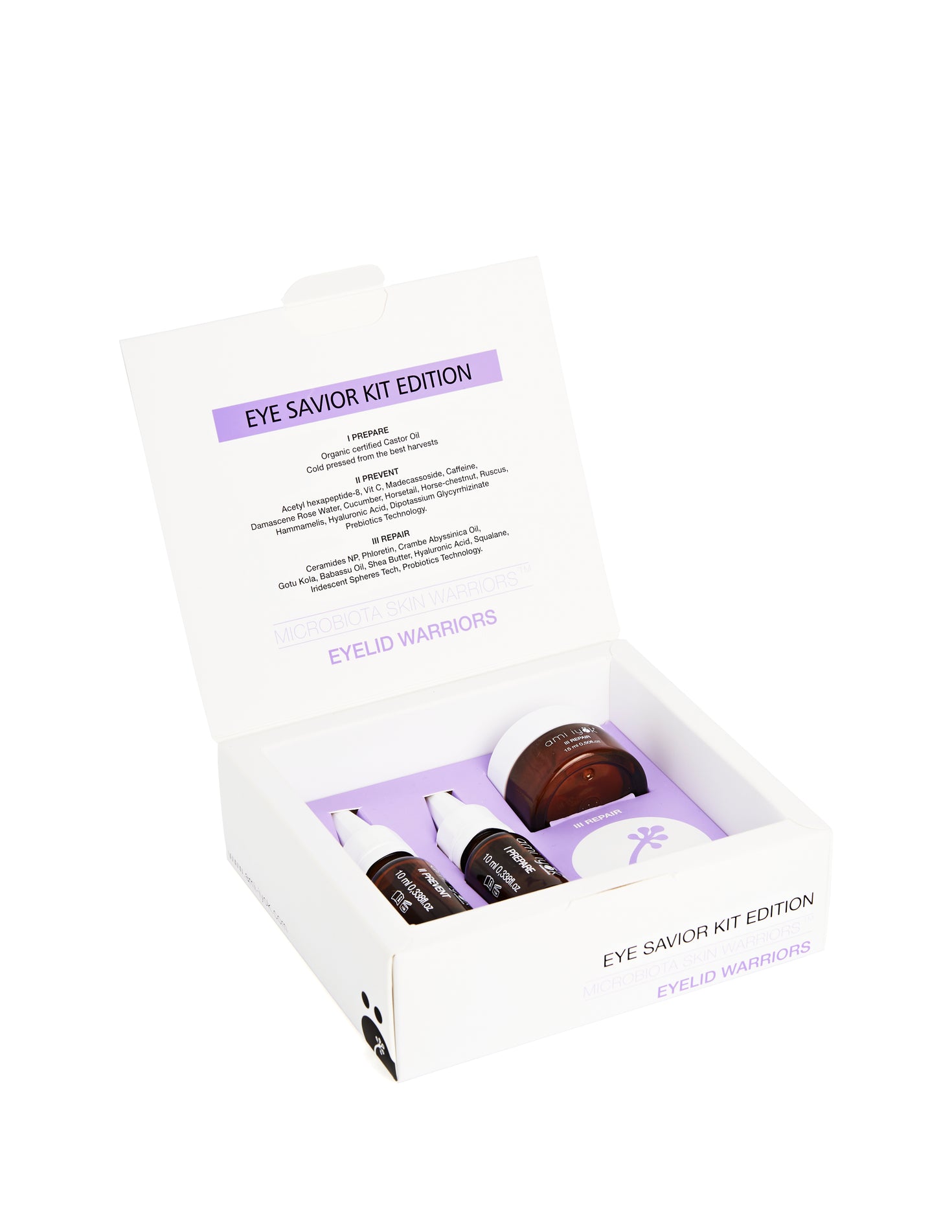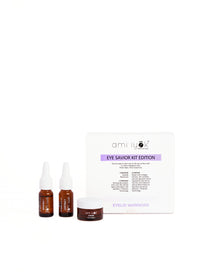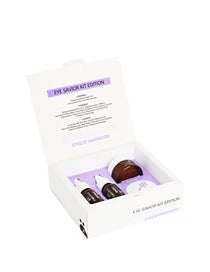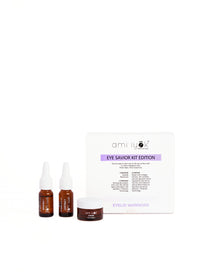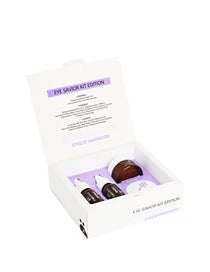 ABOUT THIS PRODUCT
INGREDIENTS
HOW TO USE
CUSTOMER REVIEWS
ABOUT THIS PRODUCT
The kit is made up of a three-step ritual, each of which aims to cover a specific target due to the complexity of this specific area of the face:

Step 1: PREPARE
Hydrate and moisturize

Our Eye Savior Kit Edition begins with a first vehicular preparation step to hydrate and moisturize the skin, as well as nourish eyebrows and eyelashes.
This first step will be key, since it will serve as a vehicle to proceed to apply in a second step, astringent active ingredients against puffiness and dark circles, in addition to maintaining nourished, strong and beautiful eyebrows and eyelashes.

Our first cold pressed certified organic castor oil is rich in VIT E and fatty acids such as ricinoleic acid . It will provide us with antibacterial, anti-inflammatory properties, also improving our localized blood circulation and promoting healthy tissue growth.

All of this will help us in this first phase to promote the process of equalizing skin tone, as well as to strengthen and hydrate eyebrows and eyelashes.

Step 2: PREVENT
Astringe, decongest, drain and offer signal dermal stimulation with neuropeptides in synergy with stabilized Vit C, especially for the contour.

The purpose of this second step is to help drain excess fluid from the lower eyelid, tone the blood vessels, and stimulate circulation. With all this we manage to reduce swelling, and a less tired and more relaxed look.
In addition, hexapeptide-8 offers us advanced botox-like technology to prevent expression wrinkles that, combined with Vit C, synergize to fight against oxidative stress in cells.
This aqueous preparation contains a high concentration of only water-soluble active ingredients to guarantee and maximize its stability and effectiveness.
In this second step, the skin is provided with prebiotics to favor the existence of beneficial bacteria for the skin in this delicate area such as the eye contour area and thus promote a balanced and healthy microbiome or barrier of our skin.

Step 3: REPAIR
Repair with collagen formers, anti-oxidants and anti-glycation active ingredients with a barrier function and an iridescent optical effect thanks to the optical diffusers. probiotic technology

This third step of our eye contour layering kit aims to repair the damage caused by external agents to our skin thanks to the combination of powerful antioxidants such as Phloretin , capable of restoring elasticity and turgidity to the skin for a younger look.
It is a butter-mousse preparation, enriched with ceramides that will prevent the loss of transepidermal water, also leaving the rest of the active ingredients sealed, penetrating deeply and working 360 degrees. The grouping of only fat-soluble active ingredients in this second step without being conditioned by the water-soluble ones, has helped us to maintain optimal concentrations in the formula for greater effectiveness.

If the second step introduced prebiotics in its formula, this third step introduces encapsulated probiotic technology whose matrix is released with all its properties once it comes into contact with the skin. With this combination of prebiotics and probiotics in our layering kit, we achieve a perfect symbiosis to promote a healthy microflora in this delicate area of the skin.
For optical purposes, in addition to gaining turgidity, elasticity and shine, the skin benefits from our high-tech optical diffusers, micronized minerals capable of filling in fine lines of expression and reflecting light away from imperfections.
INGREDIENTS
INCI I PREPARE:
RICINUS COMMUNIS SEED OIL

INCI II PREVENT:
INGREDIENTS: AQUA, ROSA DAMASCENA FLOWER WATER, GLYCERIN, PENTYLENE GLYCOL, FRUCTOSE,
ASCORBYL GLUCOSIDE, CAFFEINE, SODIUM HYALURONATE, MADECASSOSIDE, DIPOTASSIUM
GLYCYRRHIZATE, INULIN, AESCULUS HIPPOCASTANUM EXTRACT, RUSCUS ACULEATUS ROOT EXTRACT, EQUISETUM ARVENSE EXTRACT, HAMAMELIS VIRGINIANA LEAF EXTRACT, CUCUMIS SATIVUS FRUIT EXTRACT, ACETYL HEXAPEPTIDE-8, CAESALPINIA SPINOSA GUM, GLUCOSE, SUCROSE, PHENETHYL ALCOHOL, CAPRYLYL GLYCOL, PROPANEDIOL, GLUCONOLACTONE, MALTODEXTRIN, CALCIUM GLUCONATE, CAPRYLHYDROXAMIC ACID, SODIUM BENZOATE, POTASSIUM SORBATE, SODIUM BENZOATE, CITRONELLOL, CITRAL


INCI III REPAIR:
INGREDIENTS: AQUA, STEARIC ACID, CAPRYLIC/CAPRIC TRIGLYCERIDE, COCO-CAPRYLATE/CAPRATE, GLYCERIN, CRAMBE ABYSSINICA SEED OIL PHYTOSTEROL ESTERS, PENTYLENE GLYCOL, GLYCINE SOY OIL, CERAMIDE NP, PHLORETIN, LACTOBACILLUS FERMENT, SODIUM HYALURONATE, CENTELLA ASIATICA EXTRACT, BUTYROSPERMUM PARKII BUTTER, ORYZA SATIVA STARCH, XANTHAN GUM, MALTODEXTRIN,
PHENETHYL ALCOHOL, POLYGLYCERYL-3-DIISOSTEARATE, CAPRYLYL GLYCOL, BETA-SITOSTEROL, PROPANEDIOL, TOCOPHEROL, SQUALENE, CAPRYLHYDROXAMIC ACID, POTASSIUM HYDROXIDE, TIN OXIDE, MICA, CI 77891
HOW TO USE
Complete ritual in 3 steps for the eye contour. Oil + aqueous preparation + butter mousse.

Directions for use: Apply two microdrops of I PREPARE to the clean eye contour area, eyebrows and eyelashes with light touches. This step can only be used at night, but depending on the level of dehydration in the area, it is also recommended in the morning. Next, shake II PREVENT and apply 1 drop to the area of puffiness and dark circles with small touches without dragging. Let dry and proceed with III REPAIR applying a small amount around the eyes, crow's feet area and peripheral bone area, also with small ascending strokes until completely absorbed.